Band Xmas party 2015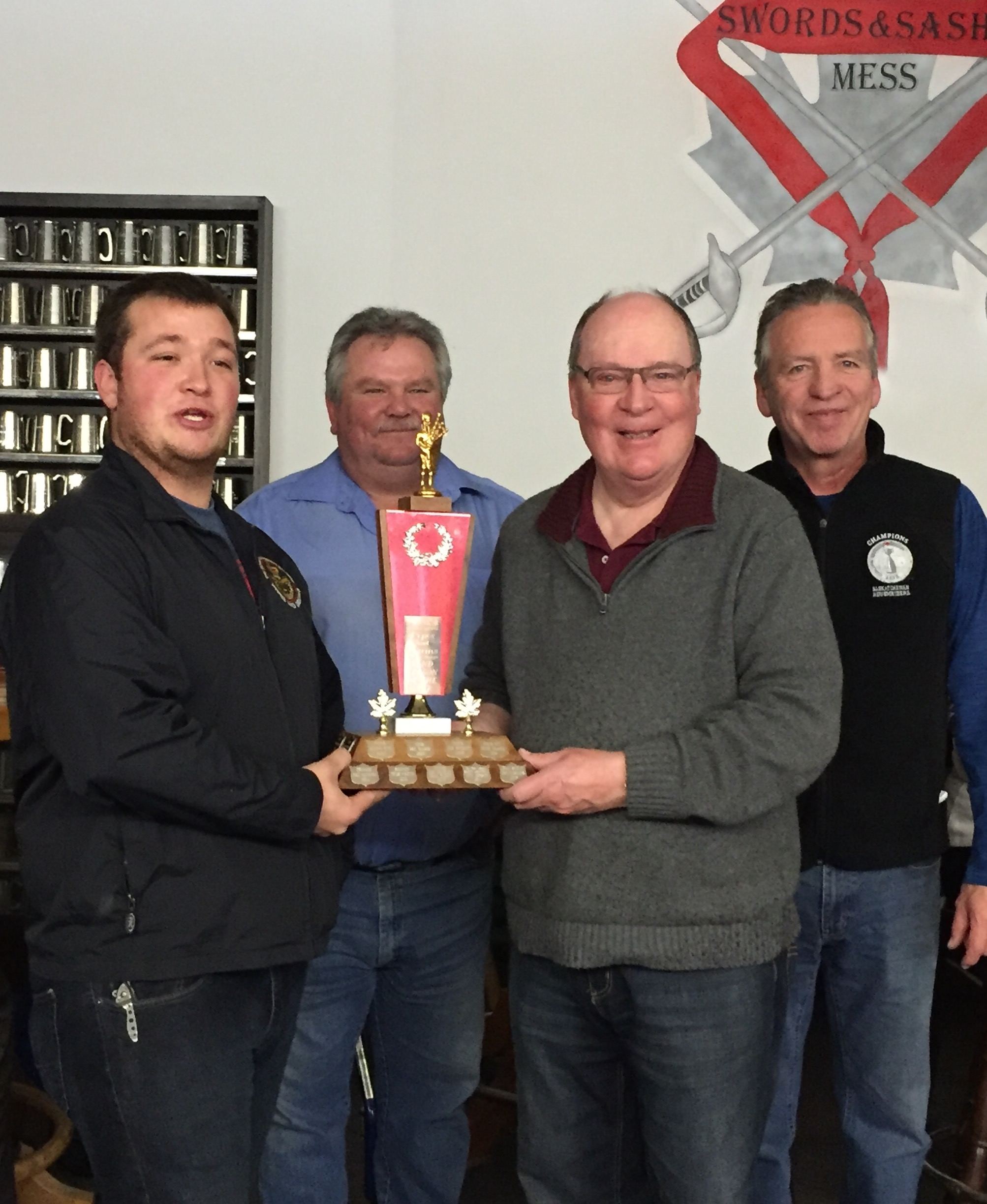 Band person of the year award presented by Pipe Major Campbell and Drum Sgt Ironside to Pipe Sgt Craig Shirley and communications officer Dave Fitzsimmons.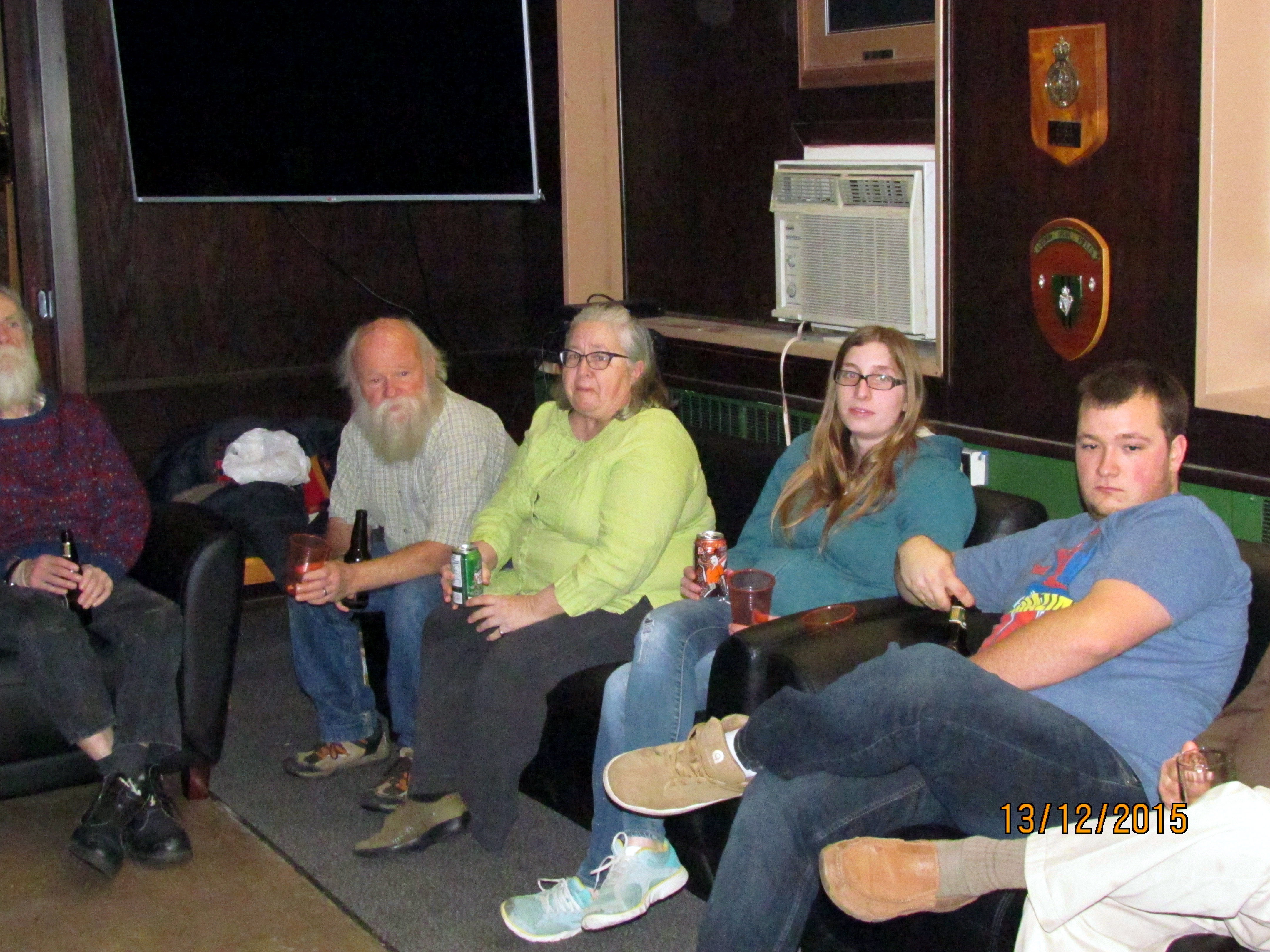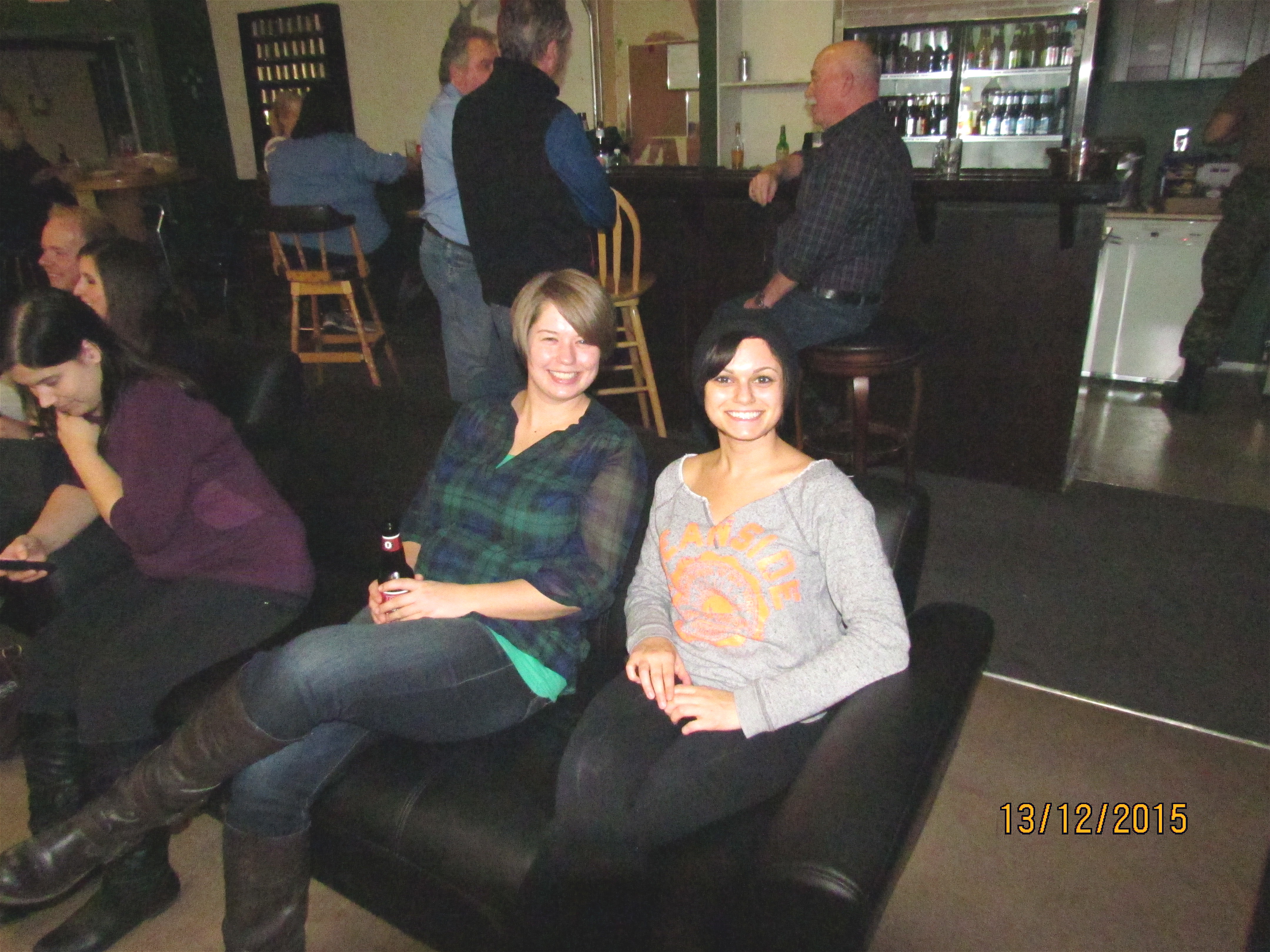 Mini Gathering 2015
Following our footsteps from 2014 the NSRPD once again played at the 2015 mini gathering, Nov 28. As per last year this was for adjudication and while there were some issues identified overall we felt we played well. The judges noticed a big improvement from last year's performance! Once again their comments were very positive and helpful - something that we can build upon.
The 2016 competition season will kick off with the Regina mini-gathering in Feb, and the Regina Highland Festival in May (Victoria Day weekend). The band had expressed interest in attending the Winnipeg Highland Festival in March but unfortunately the timing was not favourable as it was set for Easter weekend, and many members had already made plans. Sadly, Winnipeg is a no-go in 2016.
Canada Day 2015
Bradwell Parade - the band warms up.
From the quartermaster's store....what's next?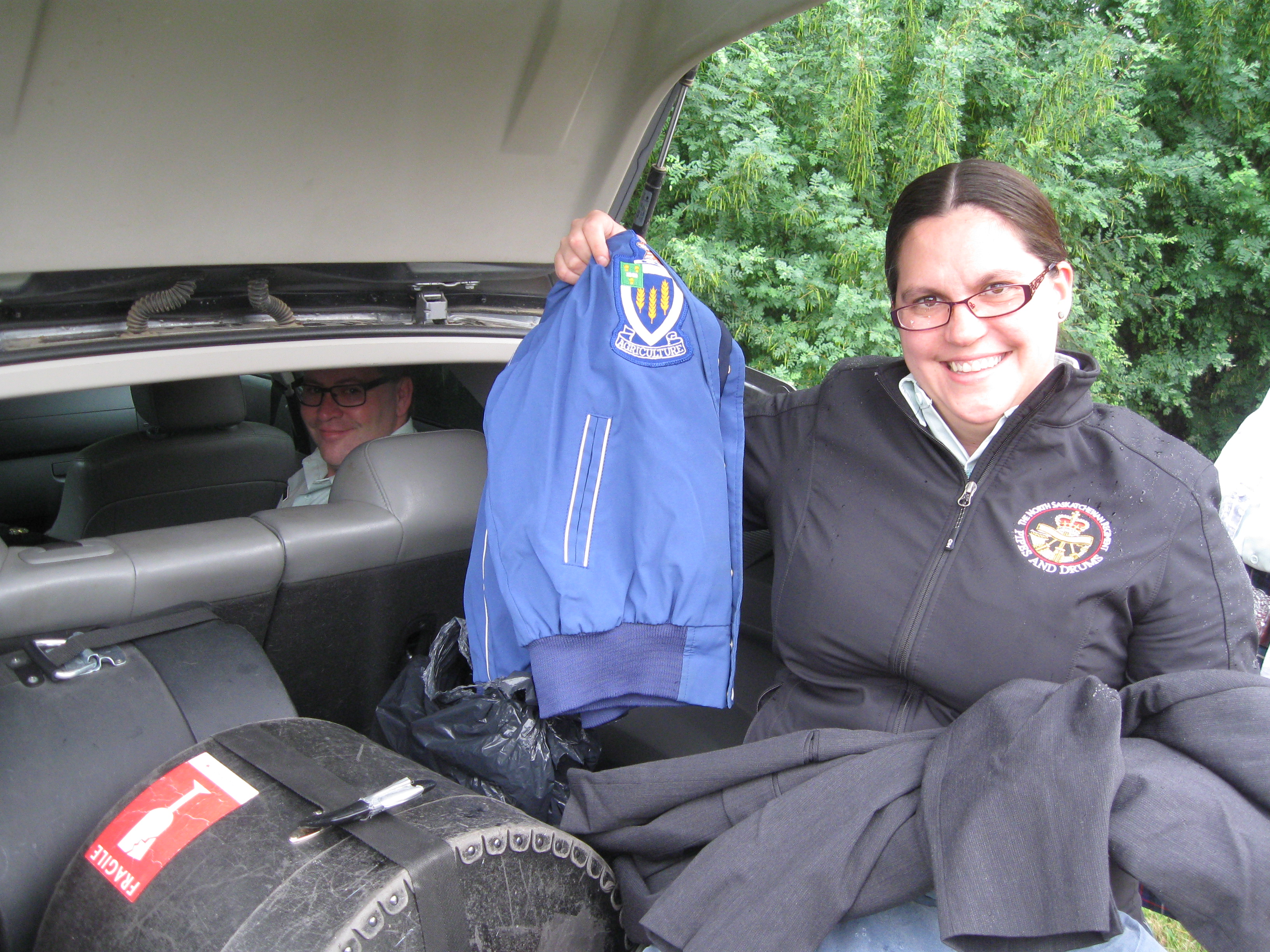 It IS a hatchback, after all....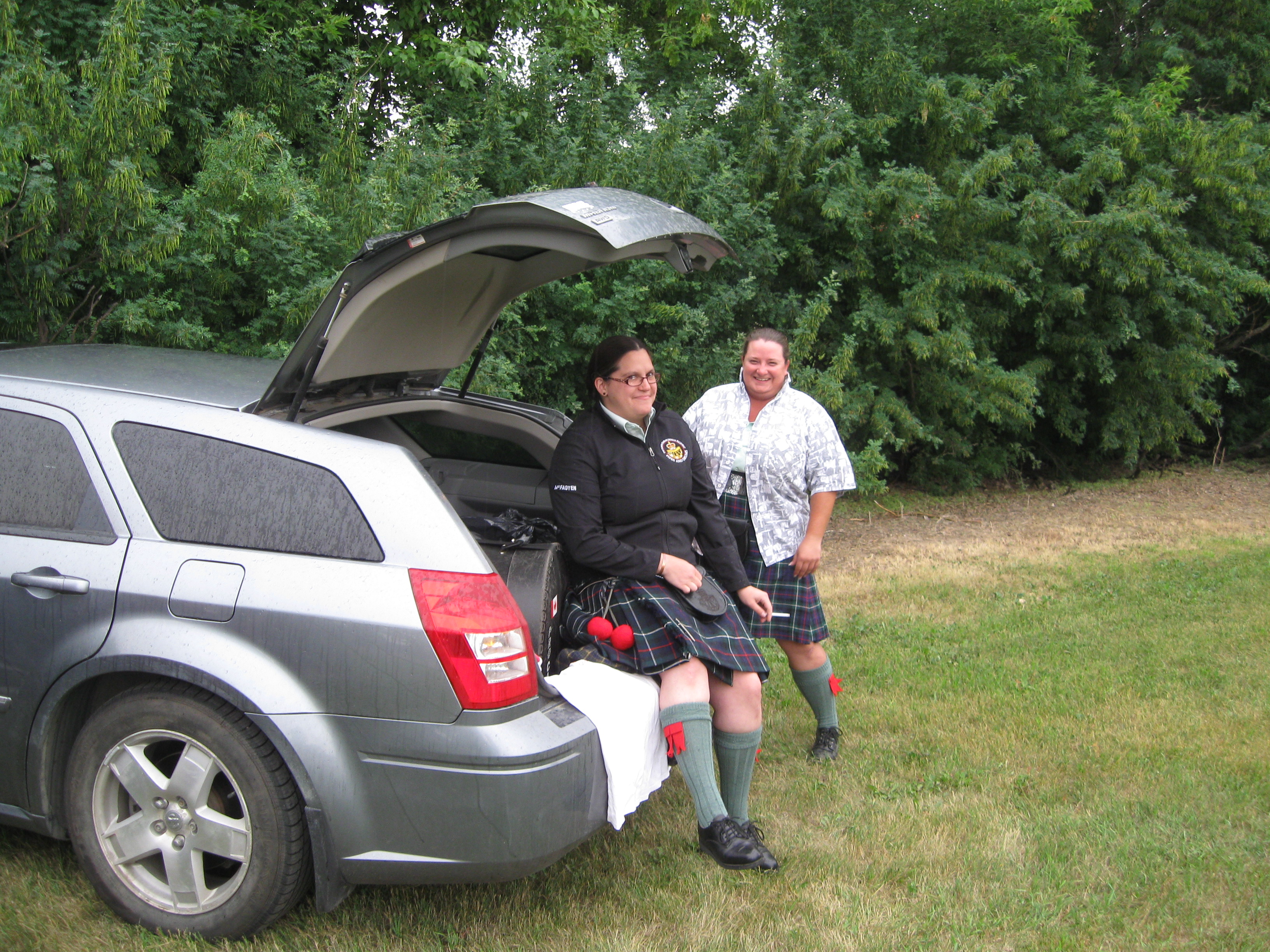 Parade's over - party time!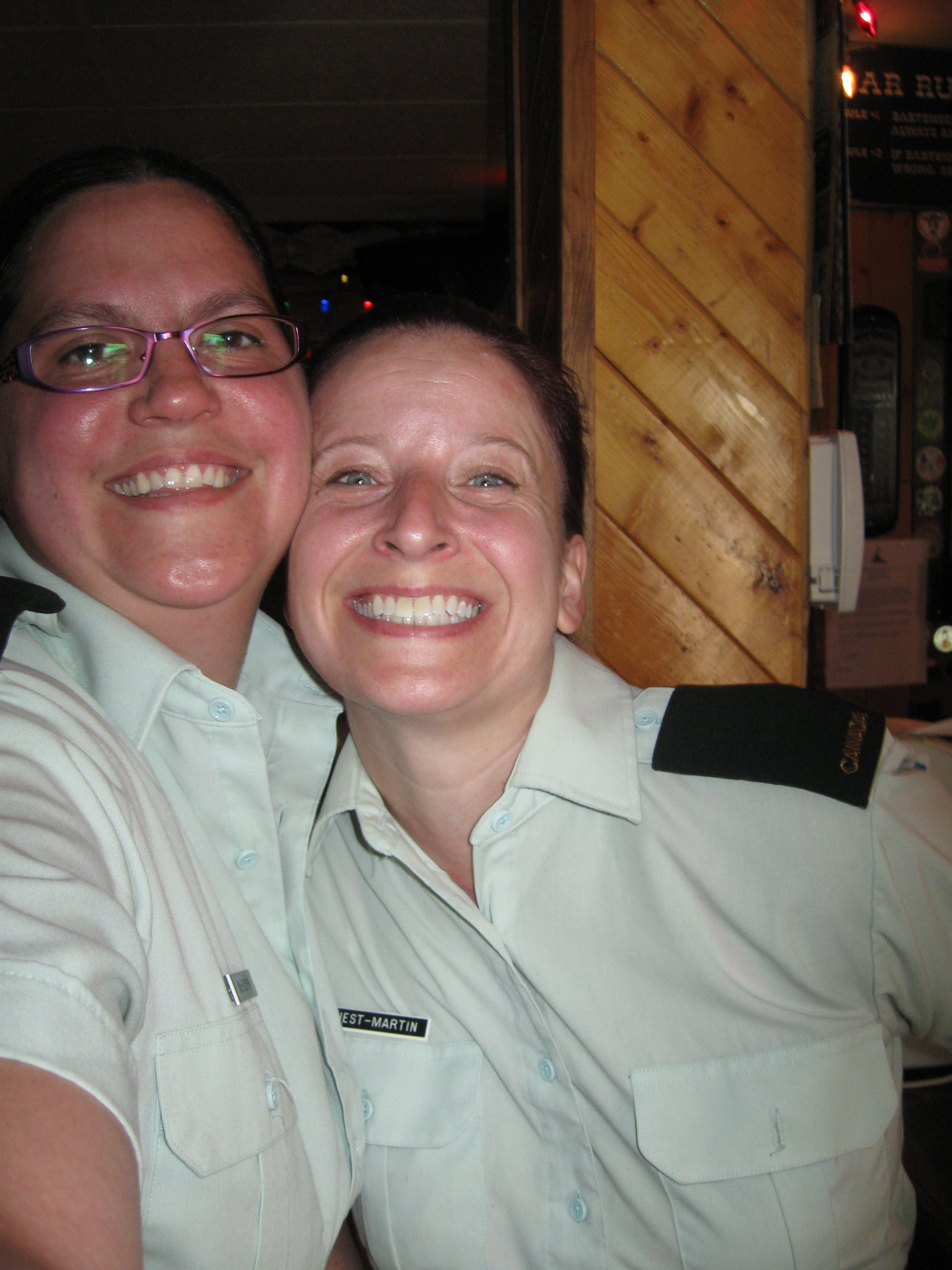 Quick, march!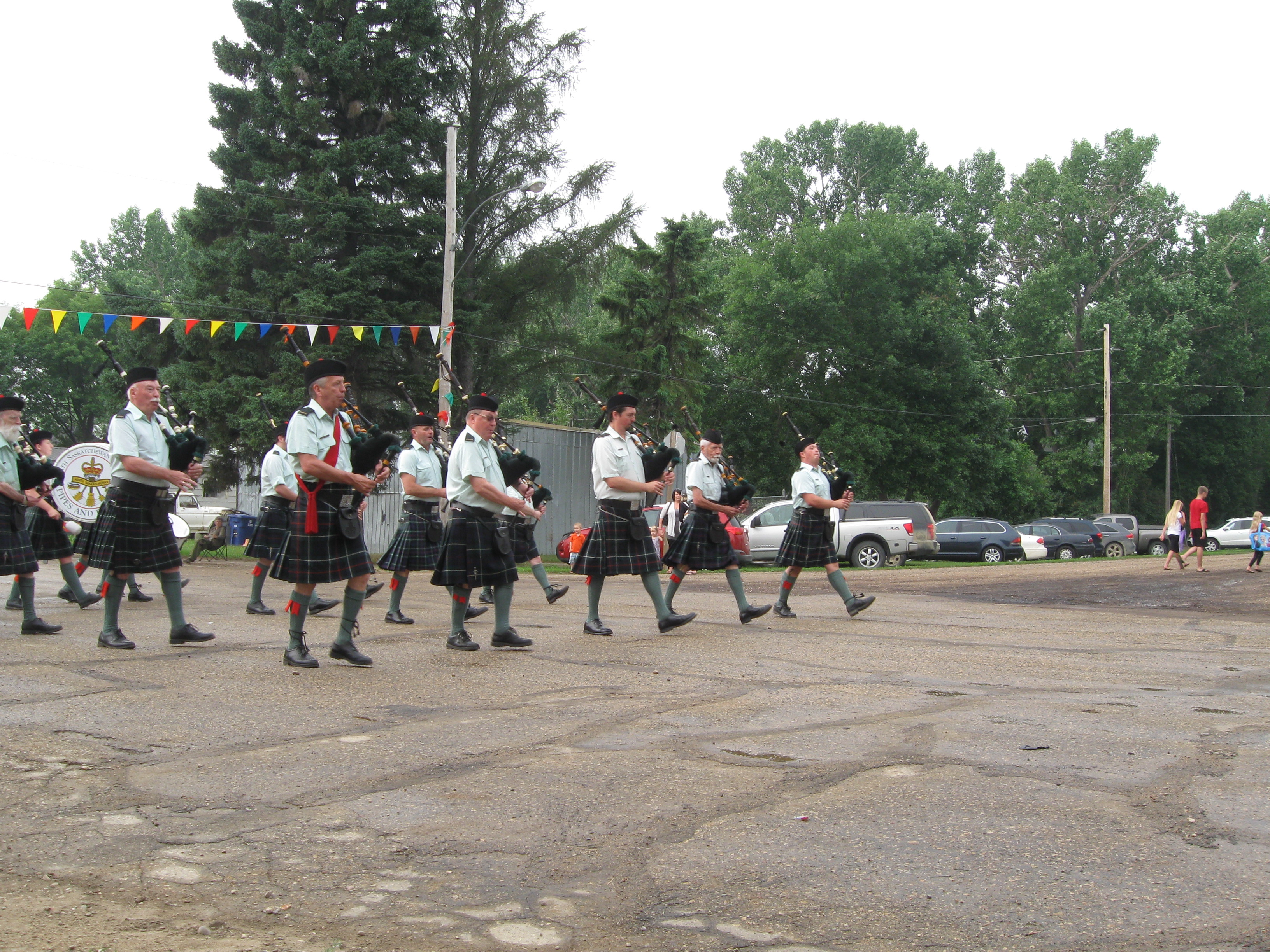 Time to relax and enjoy the sunshine......
And the beat goes on.......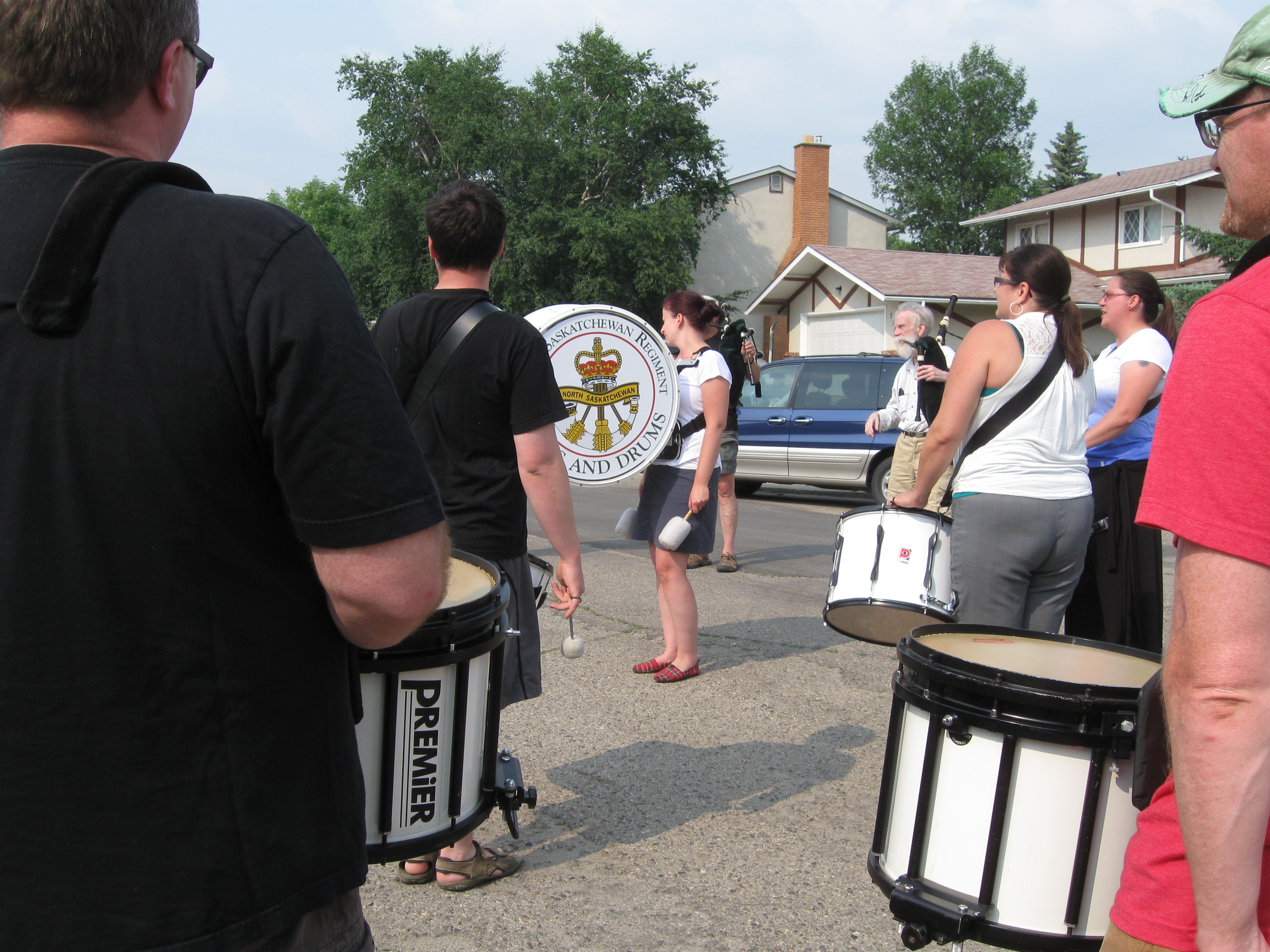 Street concert for the neighbours......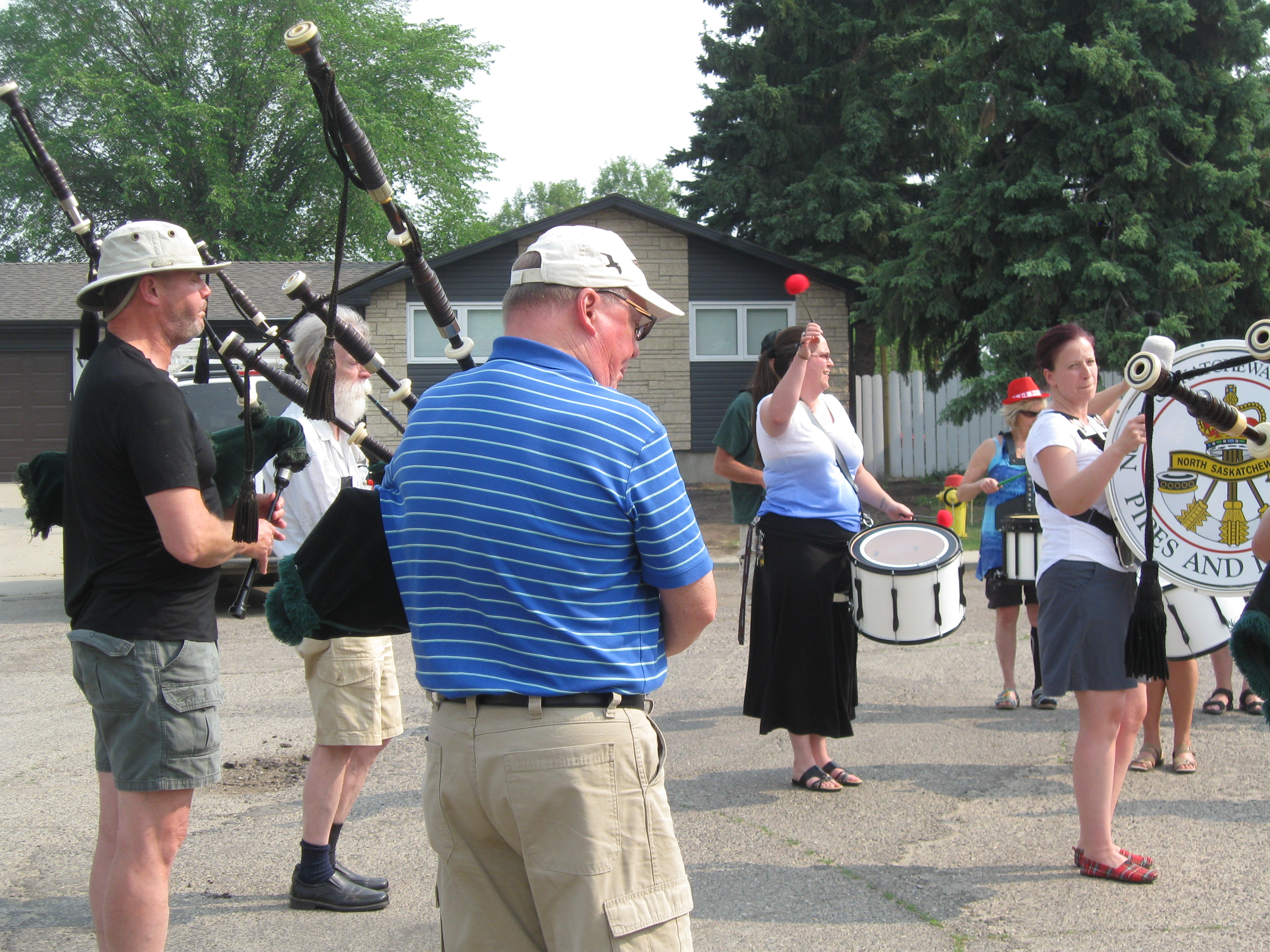 That water sure looks inviting......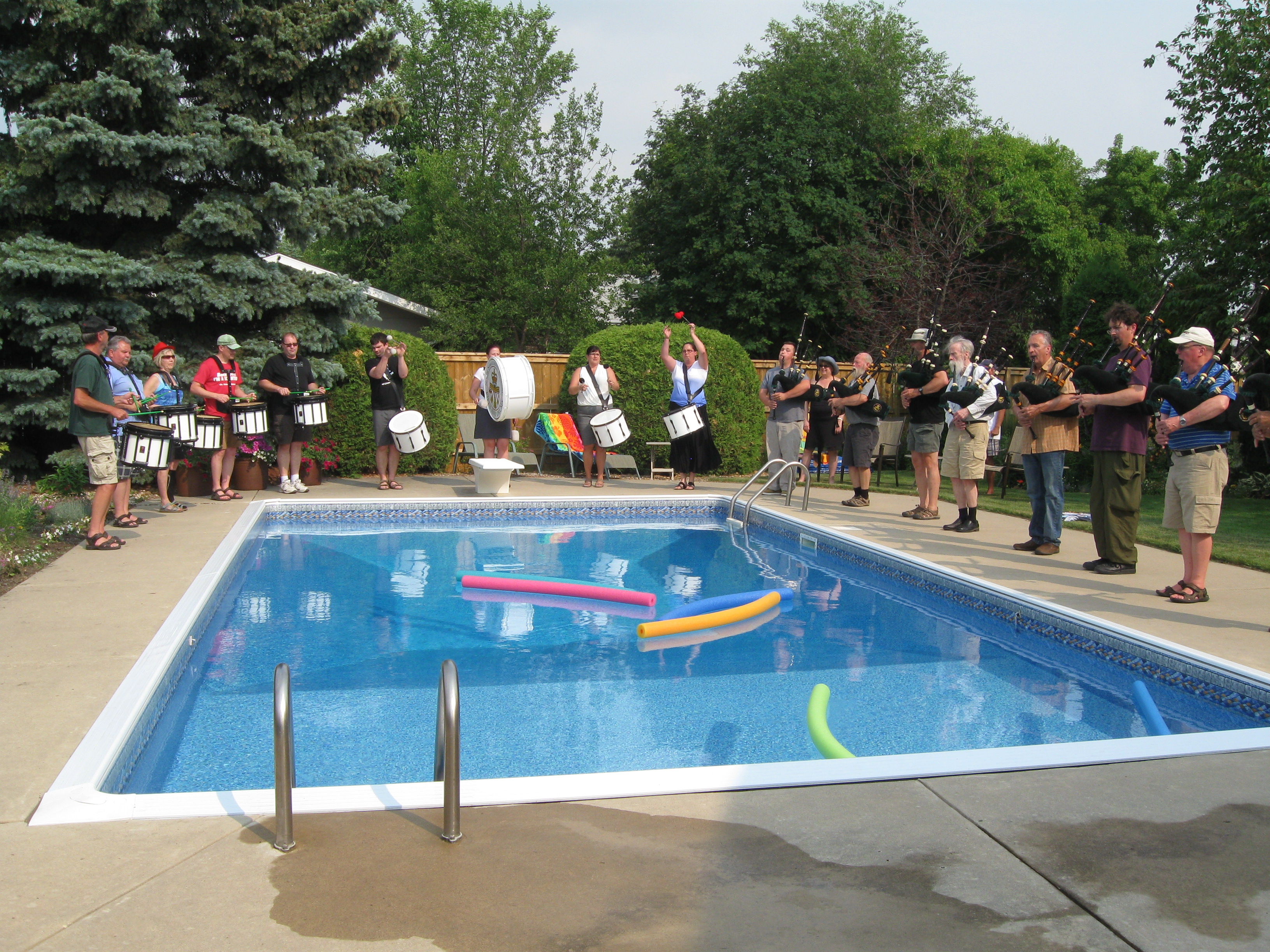 Rythym to their method......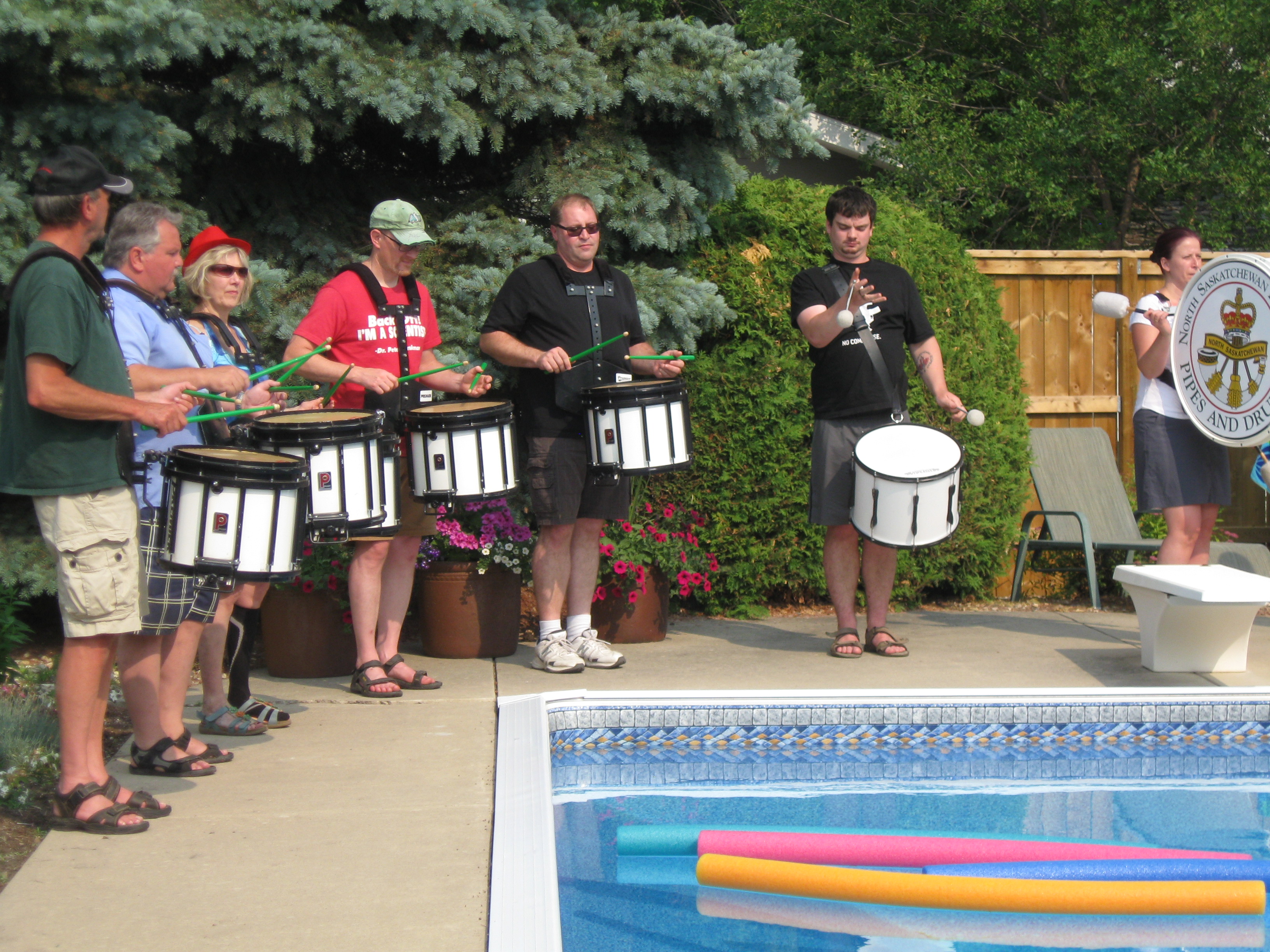 Our Chris - the "before"......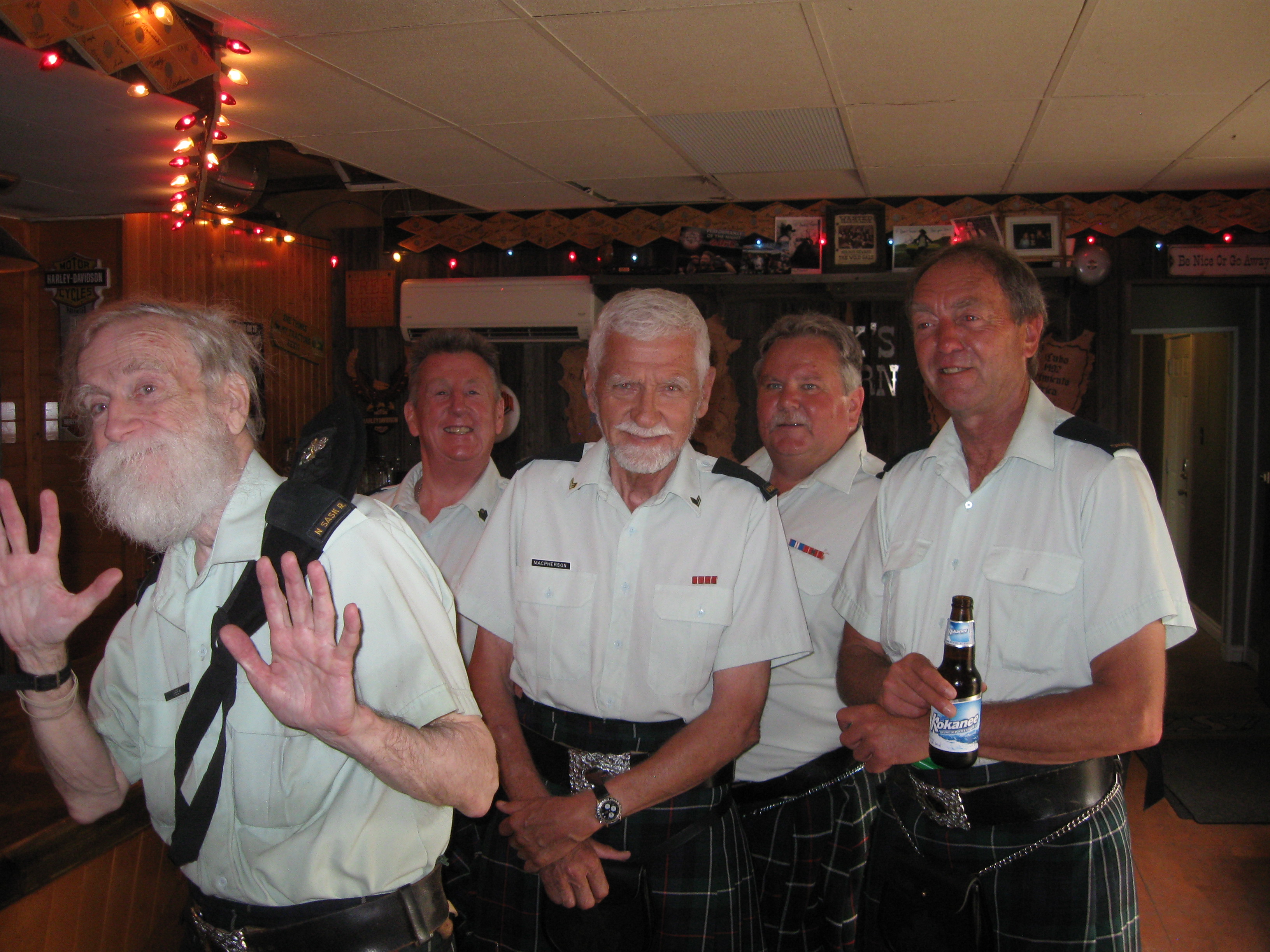 Our Chris - the "after"..........!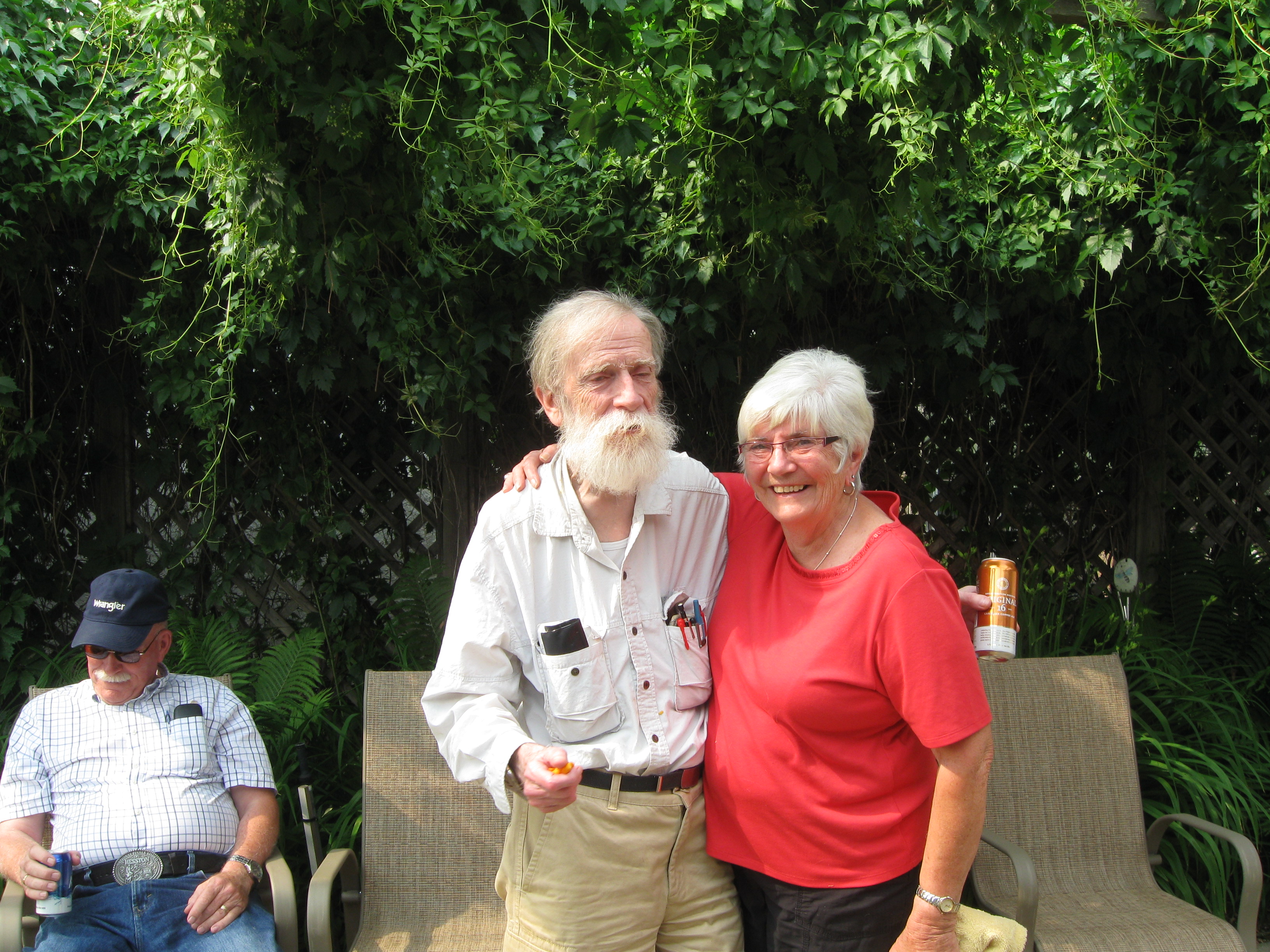 Regina Highland Festival 2015
Sat., May 16
After a long absence the NSRPD decided to return to the competition arena and accordingly entered the Grade 4 contest with our March Medley. This was something new for most of the members who had never competed before so we approached it as a learning experience, but most of all as a band trip to be together and have some fun.
The weather wasn't the nicest and nerves were a-jingle, but PM
Campbell summed it up quite nicely with the admonition:
"Remember - it's the journey."
Watch our performance at the Regina Highland Festival 2015:
Watch our performance at the Regina Highland Festival 2015:
St. Patrick's Day 2015
Tues. Mar 17 - time for the annual Irish celebration,
when there are two kinds of people:
those who are Irish, and those who want to be!
The evening began at Whiskey Jack's pub, where the band played its first set. Then on to the Hose & Hydrant for another set; Dublin's Irish Pub for 2 more sets; and finally back to Whiskey Jack's for the final appearance.
Here are a few memories of the evening (photos courtesy of Sgt. Fraser):
Fancy Socks!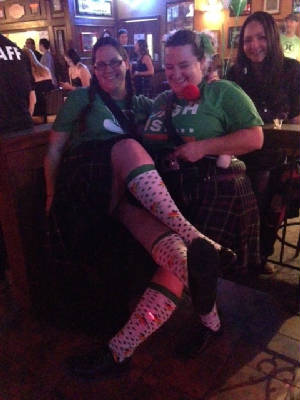 Any surface will do for the Fling!
Playing is thirsty work......where's our drinks?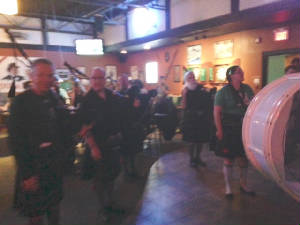 Green sticks? Well - it IS St. Patrick's Day......
So what comes next?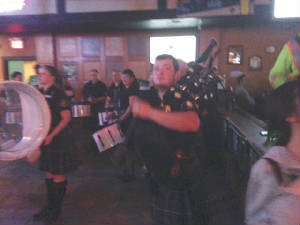 Double trouble........the mid-section is in cahoots.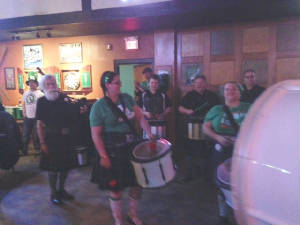 A bass drum with a clear head does have some advantages......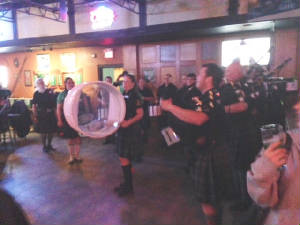 Now what are they up to.....?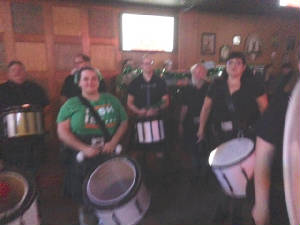 Mugging Out
Fri Feb 13/2015.
Flanked by RSM Pedersen, left, and Lt. Col. Engleberts, right, Sgt Hugh Fraser Jr.
was officially "mugged out' of the regiment after 42 1/2 years of service. In addition to the plaque from the regiment Sgt. Fraser also received thank-you letters from Prime Minister Harper, Lt. Gov Scofield of Sask., Premier Wall of Sask., and Mayor Atchison of Saskatoon.