FolkFest - Aug 18,19,20/2016
PM Campbell and Drum Sgt Ironside seem pleased!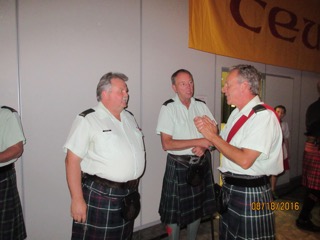 Marching off stage......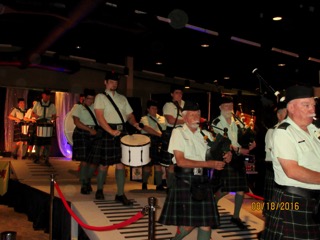 Drummers keep strange company......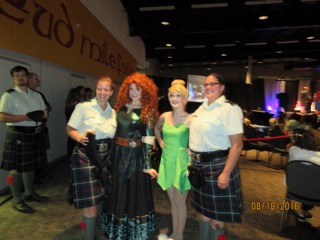 Drum corps - front and centre. Feel the power!!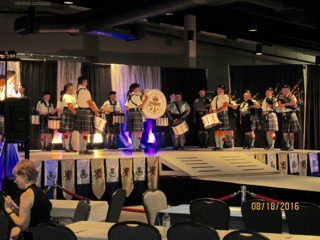 Down that slippery ramp.......... :-(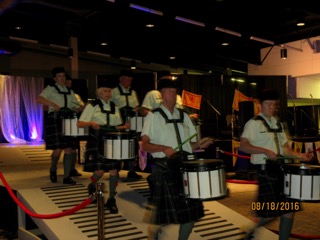 A long time between sets - time to relax.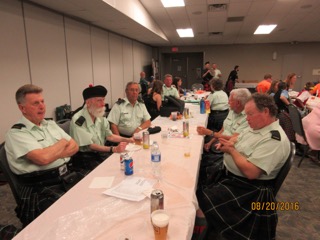 What's this - fraternizing with the opposition?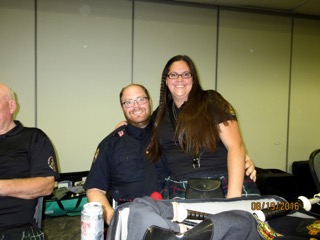 Oh, my goodness gracious!!!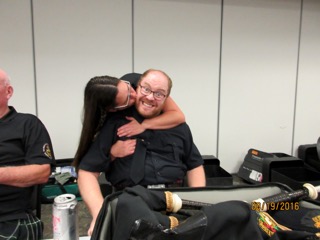 June 18 - Langham Parade
June 12 - Art In The Park
Ashworth Holmes Park
June 4 - Biggar Parade
FolkFest - Aug 18/19/20 - 2016
Vimy Ridge Memorial Dinner - Apr 16/2016
Back row, L-R: Mark Frain (bass drum); Dave Fitzsimmons (piper); Craig Shirley (pipe sergeant); Crystal McFadyen (tenor drum); Jeff Ironside (drum sergeant and lead snare)
Front Row, L-R: Sandy Campbell (pipe-major); Don MacPherson (piper); Chris Meek (piper); Ian Shirley (piper).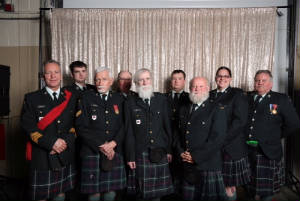 BRIT
As we have done for many years the NSRPD performed at half-time of the championship game. It was also the first performance for our newly-acquired Drum Major, Cpl. Betker, who got to wear the leopard skin. Well-done band, and well-done DM Betker!